| Abstract submission open | New Deadline Abstract submission | Abstract acceptance |
| --- | --- | --- |
| 28 September 2018 | 10th January 2019 | 30 January 2019 |
Abstract submission guidelines
Abstracts must be submitted using the online abstract submission form.
All abstracts submitted must be original work and the following must be clearly indicated:

Objectives
Materials and Methods
Results
Conclusions

Abstracts previously presented at other congresses and/or events will not be accepted.
Abstracts are subject to acceptance by the Scientific Committee, which will evaluate the work on the basis of the following criteria:

Originality and relevance of the topic
Scientific validity

The author is required to submit his/her Curriculum Vitae in European format, which must be a signed original document including Tax Code and personal details (address, phone and mobile number, email), using the online abstract submission form.
The abstracts of authors who have not submitted their CV will not be accepted.
Abstract preparation instructions
The title and body of the abstract must be sent in a single document in Word format (.doc; .docx).
The author is required to enter the following data in the form: name, surname, tax code, organisation, city, degree and specialisation.
Title: the title, which must be in two languages (Italian and English), should be concise and without abbreviations.  The title must not exceed 150 words.
Abstract: the body of the abstract must not exceed 300 words. Please use "Times New Roman" as font, size 12, line spacing 1.5.
You may include images and/or charts and the relevant bibliography in your abstract.
Please check the abstract carefully to make sure there are no typing mistakes and/or grammatical errors. The abstract will be published as submitted.
According to CME Regulations, the title and body of the abstract must not include trade names of cosmetic and pharmaceutical products, machinery and medical and surgical equipment, or of manufacturers.
In the case of studies conducted on humans, the authors state that the study has been approved by the Ethics Committee.
The authors also state that the research referred to in their work was conducted in accordance with the Declaration of Helsinki and the international principles governing animal research.
The author may not submit more than 3 presentations.
When submitting an abstract, please indicate the topic associated with the abstract. You may choose only one topic for each abstract.
Do not include abstracts in Topics marked as pre-ordered unless you have been asked by the Scientific Committee to submit them.
The topic indicated in the form will not be considered binding when the Scientific Committee has to define the congress sessions.
PRE-ARRANGED FOCUS ON AESTHETIC MEDICINE
Dark Circle: from etiopathogenesis to therapy
Day Light and PDT: methodologies for Aesthetic Medicine
Physical exercise, nutrition and fitness
Social evolution and Aesthetic Medicine: the future of well-being
Cosmetics in Aesthetic Medicine: myths and realities
Secondary or iatrogenic blemishes
New challenges in Aesthetic Medicine: forgotten anatomical areas
EFSP: just a proven truth?
Problem solving in Aesthetic Medicine
Acne universe: a multidisciplinary approach
Vitamin A: protagonist or antagonist?
AESTHETIC MEDICINE TOPICS
Updates and innovations in Cosmetology
Biostimulation and Biorestructuring
Chemodenervation
Plastic Aesthetic Surgery
Complications in Aesthetic Medicine
Dermatology of Medical-Aesthetic competence
Filler: personal experiences
Medical and surgical phlebology
Genetics in Aesthetic Medicine
Aesthetic and functional gynaecology
District Intradermal Therapy
Lasers and technologies in Aesthetic Medicine
Non-surgical lifting
Aesthetic medicine and acupuncture
Aesthetic Medicine in transgender patients
Aesthetic Medicine for oncological and non-oncological diseases
Reconstructive Aesthetic Medicine
Regenerative Medicine: the future of well-being?
New proposals in Aesthetic Medicine
Nutrition, obesity and anorexia
Peeling: news and confirmations
EFSP and Localised Adiposity
Combined protocols in Aesthetic Medicine
Rhinofiller: technical evolution
Challenges in Aesthetic Medicine
Tattoos: risks, safety and care
Lower third and mandibular area
Trichology updates
PRE-ARRANGED FOCUS ON ANTI-AGEING MEDICINE
Ageing: which tests?
Nutrition and the brain
DHEA: youth hormone?
Oriental diet vs. Mediterranean diet
Exposome: the environmental map of ageing
Melatonin and its implications for Anti-Ageing Medicine
Abstract submission will be available on the Congress website from 28 September 2018.
The new deadline for abstract submission is 10th January 2019.
Abstracts sent by fax will not be accepted. Only abstracts submitted via the online form will be accepted.
Notification of acceptance
The authors will receive an abstract acceptance email from 30 January 2019. This will be followed by notification of inclusion in the most suitable session of the congress programme.
As soon as they receive the abstract acceptance email, authors must register for the Congress and pay the registration fee.
Abstracts can only be included in the Congress Programme if they have been approved by the Scientific Committee.
The Scientific Committee reserves the right to preview presentations deposited at the Slide Centre to ensure CME Regulations are respected.
For any further information please contact Salus Internazionale ECM by calling +39 063735333.
Pre-congress SIME Courses 2019
Congress Centre Rome Cavalieri
Waldorf Astoria Hotels & Resorts

Via Cadlolo, 101 – 00136 Rome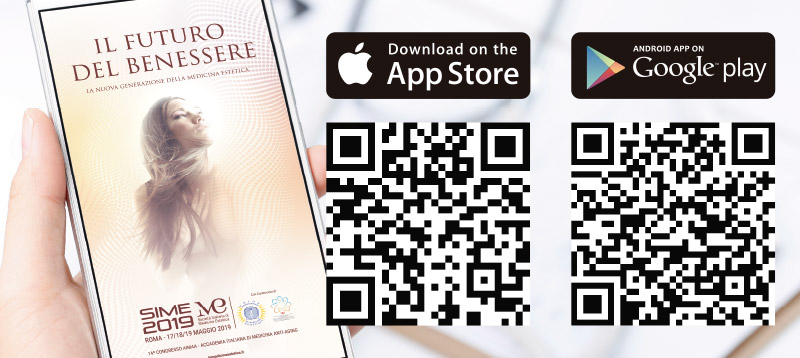 Download the "SALUS" App for free
to follow the SIME Congress
with all the information
in real time.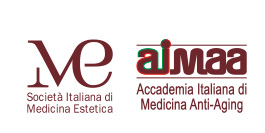 Scientific Secretariat
SIME – AIMAA

Via Monte Zebio, 28 – 00195 Rome
Tel. – Fax: +39 06/3217304
sime@lamedicinaestetica.it – www.lamedicinaestetica.it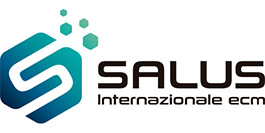 Organizing Secretariat
Salus Internazionale ECM – Provider ECM 763

Via Monte Zebio, 28 – 00195 Rome
Tel. +39 06/37353333
congresso@lamedicinaestetica.it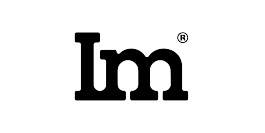 Hotel Reservations
Ideameeting International srl

Via Terni, 66 – 00182 Rome
Tel. +39 06/5852301 Fax: +39 06/58523020
sime2018@ideameeting.com